Insurance can be complicated
We're working hard to change that..
Welcome to our digital insurance platform, for the entire value chain
Out of our efforts to do one thing ….
Sprang a better concept
, at
four site
we believe technology is an ever growing and evolving eco system and that the most advanced tech has to be utilized where possible. They say "a rolling stone gathers no moss" at four site our development team are always rolling with latest innovations. Keeping your platform and technology at the forefront of the Insurtech space.

Customer Engagement Applications
With a background in field services, mitigation and inspection services, along with Claims, Disaster Recovery, Cyber Security and IT Consultancy Services, our curated and specialized portfolio of third-party services can only strengthen and complement our expertise. These combined managed services can be consumed as a white-label offering or managed directly using our digital platforms. These services include, Backup, Recovery and Cyber Essentials along with IT Consultancy services. Our man power and field services arm can engage in digital inspections, claims handling, and processes driven objectives across the globe.
Pre and Post Mitigation Services
Building Scalable applications that flow across any device, region or user types is in our blood, our platforms are highly efficient and scalable, allowing access to everyone in your eco system." Carrier to Client" and everyone in between. Keeping everyone on the same page from the start to the end of the life cycle. White-label functionality, Multi-team and Regional distribution mythologies, allow an easy set up and implementation of our platform across your entire team and process. Distribute to any device with our agnostic approach, while utilizing any of our interface options, IOS, Android, Desktop, WebApp or Tablet models.

Automation of Technology
Using our advanced underwriting and brokerage technology, four site is working hard to automate workloads across multiple lines of business and geographical territories, Utilizing the most advanced technology, four site is streamlining and standardizing platforms for Cyber, E+O, GL and D+O, all the way through operation and life cycle processes of an insurance quotation. We feel that automating the entire process start to finish is the only way forward. From the quotation, bind process, endorsement all the way to Stamping. Giving the Broker, Underwriter and Client the easiest path to success. This comes complete with all the supplementary services you would expect, mitigation, claims and specialized reporting. Using best of breed technology along the way. From Blockchain, AI to Scoring Algorithms four site has it all.

Digitalization of Insurance
Modernization of the insurance process, for all of "the value chain", we specialize in streamlining and standardization of legacy data and information, held across multiple systems, formats and locations. Converting current or historical platform's and antiquated systems to modern digital user-friendly solutions, across all of the value chains touch points. This applies to the Carrier, Underwriter, Broker, Agent, 3rd party vendor and Client. Within our All in One Platform.
Interested in finding out more: 
At four site we understand that insurance has many touch points along with multiple layers of service delivery. Sometimes it's impossible, not to be complex! 
As we can see below.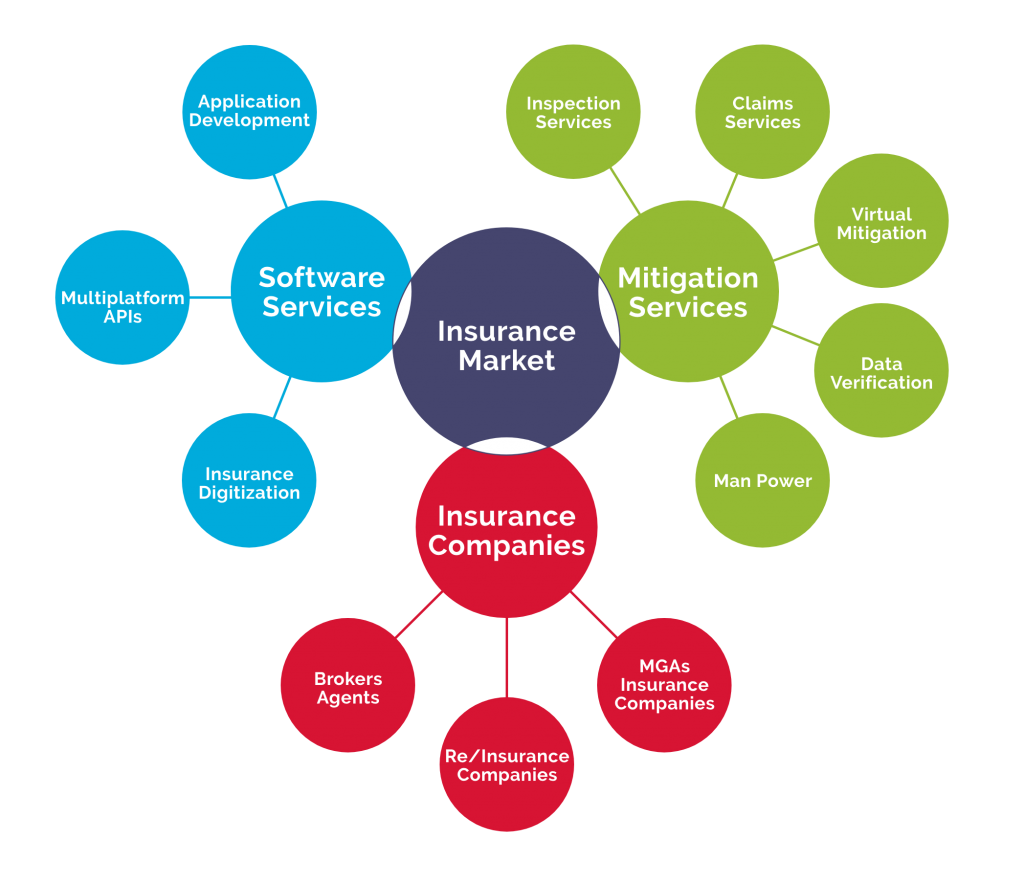 " Insurance and digitalization can be complicated, for everyone
We believe we can help strengthen and at the same time solve this type of complicated model, by offering simple white label services and digitalizing/streamlining the process for the people on the front line. Not by ignoring anyone in the value chain, but by connecting the players involved with the tools that will enable them to better deliver the great service they have always given to their partners, customers and clients alike.
At four site, we're here to change that"
We're changing the industry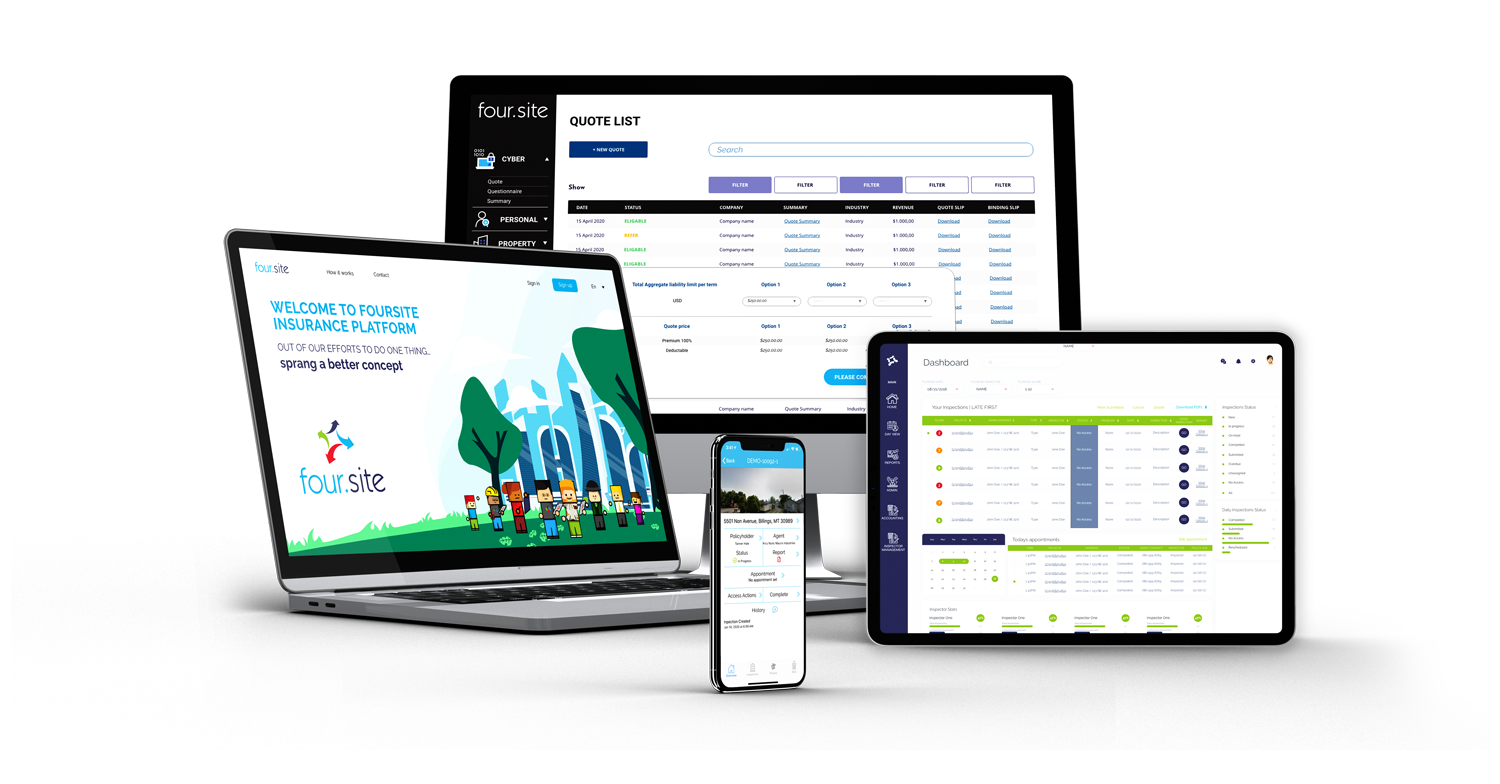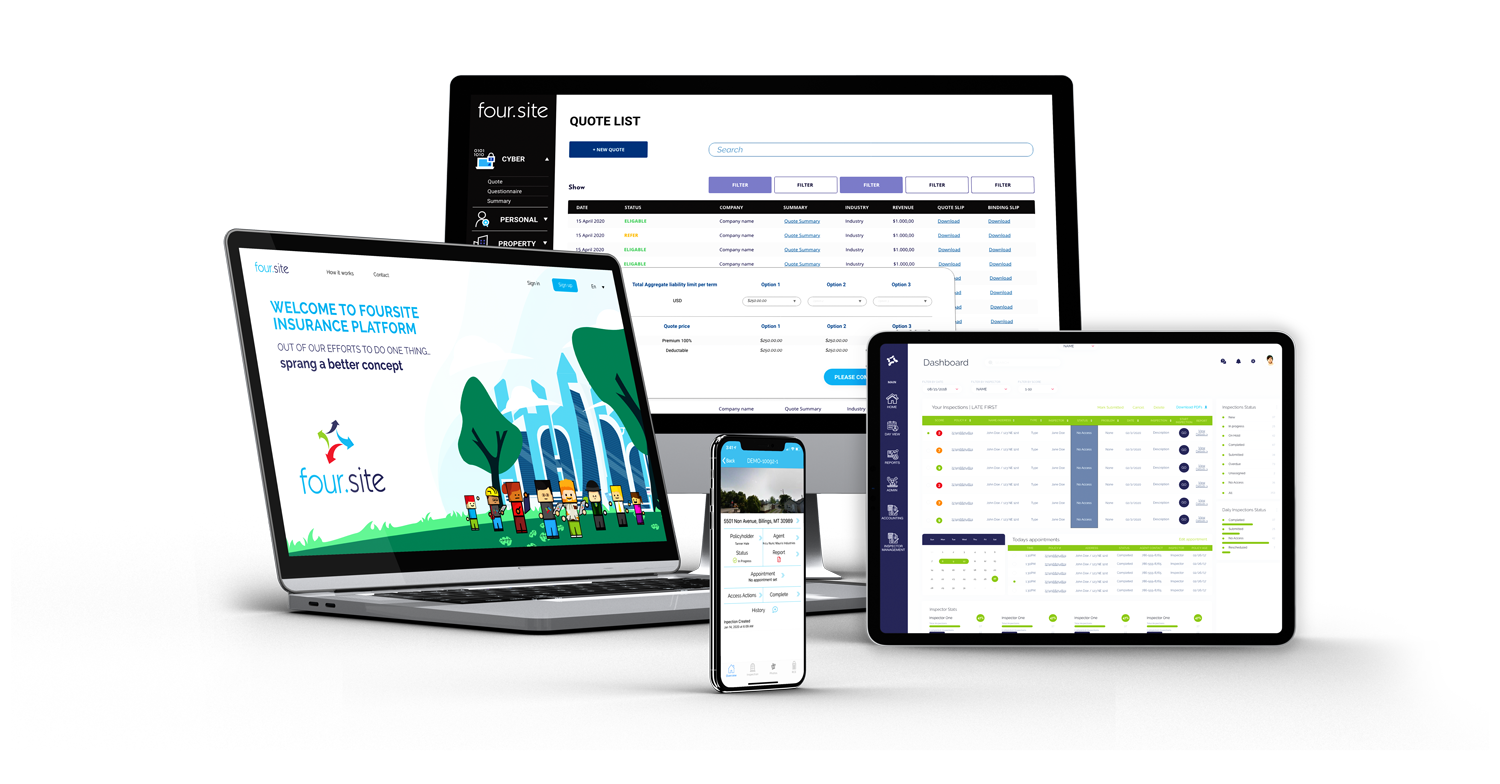 Reimagine the insurance industry
That's what we do! At four site, we want to connect the insurance value chain with most advanced technology. That includes everyone from the client, agent, underwriter all the way to the carrier. For far too long, we've have settled for an outdated and antiquated approach to insurance, and it's time for a change.
We're serious about wanting you to be more effective and efficient with your business, whether you're multi-level insurance company, or an independent home inspector. 
Wouldn't it be nice

if

 everyone had the correct information? 

Wouldn't it be nice

to have a fast and simple digital insurance process

Wouldn't it be nice

to have all that in one application?

It's possible. We're working hard to make that a reality. That's why we're practically giving away our products, so that we can all grow together.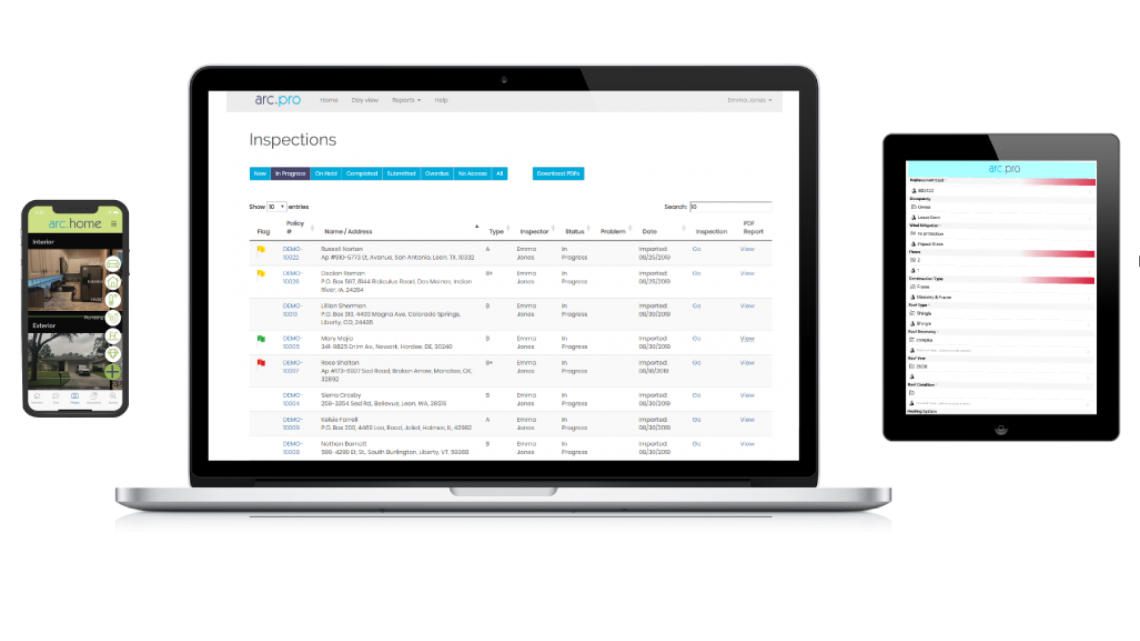 If you like what you see, why don't you reach out for a demo, stop by our offices in Glasgow or downtown Miami? Or just hit the live chat. We'd love to chat!